ROOT

ZONE

MANAGEMENT COMPANY
---
We have over twenty years of experience in installing tree root control barriers for new and existing houses and buildings to avoid the removal of valuable trees and to prevent costly damage to buildings. We work on the preservation of trees on development sites, from consulting and fulfilling town planning requirements of local government through to root investigations and reports. We also write and implement tree preservation and management programs.
We provide prompt professional and cost-effective services based on arboricultural principles that reflect environmental respect and responsibility.
Our clients include: –  homeowners, commercial clients, local government, property managers, architects, town planners, road works and construction companies, builders and developers, housing restoration companies, schools, sports clubs, lawyers, landscapers, and loss assessors.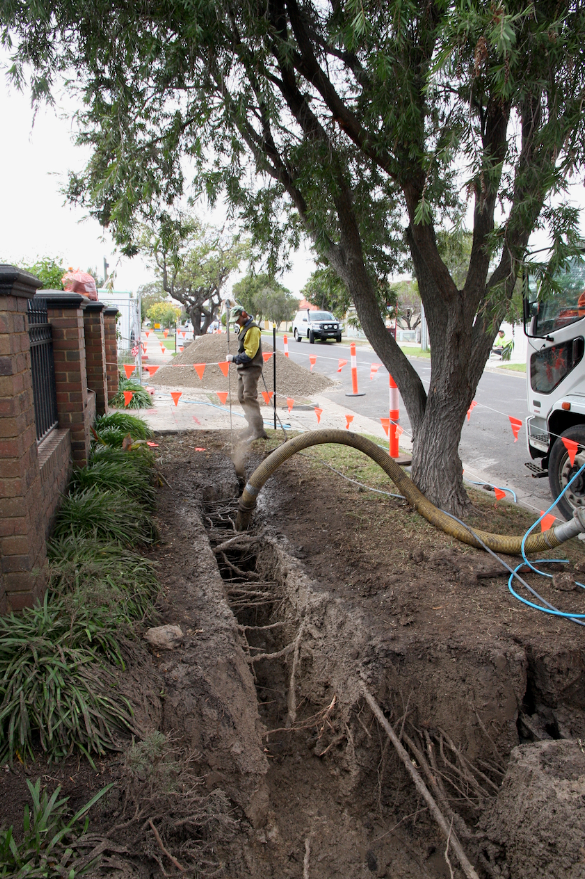 testimonials
---
To whom it may concern, We live in a Town House Estate. A few years ago, one of our neighbors' planted 7 Manchurian Pear trees close to our common border which grew up to 9 m in height. Earlier this year, we engaged the TREE COMPANY to trim some of the overhanging branches of these trees. When they saw the height of the trees they immediately suspected root problems under the house. The Tree Company people suggested we get in touch with Mr. Simon Jonas from the ROOT ZONE MANAGEMENT company. They felt a root barrier was indicated. The distance between house and trees would be about 3-4 m. We got in touch with Mr. Simon Jonas who came out to inspect the site and gave us some indication of what needed to be done. He followed this up with a quote and in depth description of the work that would be done. It was all very professional. Further investigation under the house indicated the need for some limited underpinning which was undertaken in due course.

This was immediately followed by the installation of approx. 11m of the root barrier by the ROOT ZONE MANAGEMENT company. We cannot fault Mr. Jonas' professionalism and attention to detail during the time we were in contact. He always kept his appointments and always kept us informed on what was going on. His staff was equally competent and polite. The garden was finally left absolutely immaculate! We have no hesitation in recommending ROOT ZONE MANAGEMENT company.

Yours faithfully,
To whom it may concern;

We write to recommend the services of root zone management company. We required a 17 meter root barrier installation and Simon Jonas provided a competitive quotation with in 24 hours of our initial enquiry. The installers worked efficiently and we found them to be courteous and professional.
The installation was completed on time and the working area was left in a tidy state. Please contact the writer if you require any further comment.

Yours faithfully,
Recently I contracted Root Zone Management Company to undertake some extensive root protection and our residence. The urgency of this work was to prevent tree root problems that were causing cracking of the concrete floor inside the house. I received rapid response from Mr Jonas and prompt attention to the problem through the services of his business, Root Zone Management. All of my queries were dealt with by return calls and the work was completed in 2 days.

Key factors: Excellent quality of the work, sourcing materials to meet our requirements and rectification of the work site, including rehanging wall baskets. Excellent staff who worked diligently and professionally and attended to the detail that we required. Provided first class advice with detailed explanations. The work was extremely difficult due to restricted access causing no damage to plants and buildings. Root Zone carried out an extensive investigation of services to avoid disruption of on-site plumbing and other in-ground services.